Zu Ihrer Sicherheit und der weiteren Eindämmung des Coronavirus finden alle Veranstaltungen unter Einhaltung der gesetzlichen Vorschriften statt. Bitte beachten Sie die Hygienemaßnahmen vor Ort.
Rescheduled
Previous date:
White Heat - Focus Canada 2022
Fidicinstr. 40
10965
Berlin
Tickets from €22.00 *
Concession price available
Event organiser:
English Theatre Berlin, Fidicinstraße 40, 10965 Berlin, Deutschland
Event info
A revealed identity leads to an impossible decision. Journalist Alice Kennings grapples with how to act after uncovering the identity of an alt-right podcast host calling for violence against the media. Based on real events, White Heat is a play about all the things we justify to ourselves.

Cue6 Theatre is an award-winning Toronto company that strives to cause change by creating an environment where audiences can safely investigate and challenge their own beliefs, building an intimate discourse between art and audience. They experiment with form, audience relationship and the nature of storytelling with a focus on drawing in audiences who are new to live theatre.

Two nights only
March 10+11
Event location
THEATER THIKWA
Fidicinstraße 40
10965 Berlin
Germany
Plan route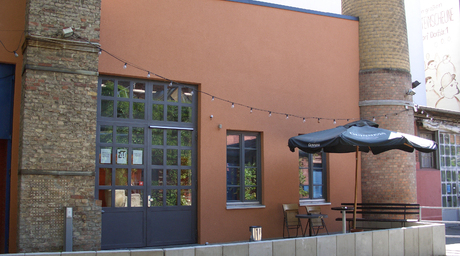 Thikwa ist Hebräisch und steht für "Hoffnung". Das F40 in Berlin Kreuzberg ist seit Januar 2006 die gemeinsame Spielstätte des English Theatre Berlin und des Integrationstheaters Theater Thikwa. Gemeinsam bilden sie einen Ort, an dem Hoffnung, Kultur und Unterhaltung zusammentreffen.

Zwei auf den ersten Blick völlig unterschiedliche Theater arbeiten im F40 erfolgreich unter einem Dach zusammen. Zur Berliner freien Szene gehörend, ist das English Theatre Berlin die einzige ausschließlich englischsprachige Bühne der Hauptstadt. Klassiker als auch Neuentdeckungen werden als klassisches Sprechtheater oder Comedy verpackt und auf die Bühne gebracht. Das Theater Thikwa ist aber auch ein Integrationstheater, das Barrierefreiheit und Offenheit verspricht. Auf experimentelle Weise werden so die Bereiche Schauspiel, Performance, Musik, Sprache und Tanz auf ihre Abgrenzungen hin untersucht. 90-140 Zuschauer finden vor der großen Bühne Platz. Zusätzlich bietet die Studiobühne eine Kapazität von 50-70 Plätzen.

Das Theater Thikwa liegt in Berlin Kreuzberg zwischen dem Viktoriapark und dem stillgelegten Flughafen Tempelhof. Mit seiner zentralen Lage liegen diverse Bus- und U-Bahnhaltestellen in Gehweite. Wer mit dem PKW anreist, sollte Gebühren einkalkulieren.